Community Action's Main Street Store is excited to be partnering with "The Sharing Table" which will be managed by Anna Cruz of Albion who works for Western Governor's University. Anna brought forth the idea to have a collaboration of a community service event partnering with Community Action. Anna reached out to, Michelle George and Annette Finch, Director of Community Services to discuss this idea and partnership. Annette Finch and her team jumped at the opportunity to be part of this great community outreach and support service initiative.
The Sharing Table will begin the 3rd Saturday of June. June 19, 2021 from 10:30 am -5pm. It will offer an open table where individuals can as the motto states, "Take what you need, Leave what you can, if you can" It will host items such as, Food, Personal Hygiene Items, Cleaning Supplies as well as, some pet foods.  In addition, to, The Sharing Table we will also be offering, The Sharing Table Club Card. It will cost $2 a month to be a card member and comes with many perks such as:
Updates on Volunteer Opportunities
Discounted Items in the Store
1 Meal or Activity Basket
1 Premium Specialty Item
The Sharing Table Club Card will be a monthly membership of $2 and can be paid monthly or yearly the fees collected for this club card will go toward the advertising of the monthly Sharing Table Events. The Sharing Table will be set up outside of the Main Street Thrift Store at, 131 South Main Street Albion, NY 144111. The store is located directly across the street from the Hoag Library. The Sharing Table event will start out once a month and be posted on the Hub, and the store's Facebook page at, Mainstreetthriftstore.albion and on the Community Action Website at, https://caoginc.org/
For individuals who would like to contribute to the Sharing Table as a,1 time donation or monthly donations, they can access a Amazon List Labeled, The Albion Barn Owls Sharing Table here is the link: https://www.amazon.com/hz/wishlist/ls/UZBDT58OOTFS?ref_=wl_share These items will direct ship to Anna for distribution during the Sharing Table Events.
The hope is that this Sharing Table is a table set up to take what is needed and to also donate what you can to your community neighbors. At WGU, we have Cultural Beliefs and the one that resonates for this Community Event is, "Achieve Together" I create an environment inclusive for diverse individuals and perspectives to enhance and harmonize our work with the communities we serve. This speaks volumes as, this is a Community Service Initiative that is community wide with no requirements to, Take what you need and leave what you can, if you can. It speaks to the value and worth of every individual no matter the circumstance.
It is a true blessing to partner with the community in which I live. I am humbled that I work for an organization that allows us to have passion for service and that I work with my colleague, Noel Rivera from, Fontana California and she was the one who saw the article about Mary Kate Tischler in Seaford, NY who started, The Sharing Tables and now has had 53 opened. Her FB page is titled, The Sharing Tables of The USA. She began this service initiative in March of 2020 to help those during the pandemic and it has bloomed and grown from there. Noel will also, be starting A Sharing Table in her community in the near future as well.
The Main Street store currently has a Sharing Stand outside the store. There is surplus foods and produce placed there during the summer months and offered there when available. The Sharing Table will be offering many items as listed above from foods to paper products and other items that are often to "luxurious " for limited budgets.  Sometimes, all it takes to get through a difficult month is a little extra help. This often makes all the difference in what may be a trying and/or troubling time. This is a community wide service and is open and all are welcome to visit and participate.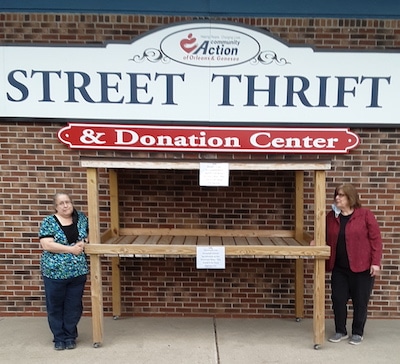 https://caoginc.org/wp-content/uploads/2020/11/logo_top.png
0
0
Jan Albanese
https://caoginc.org/wp-content/uploads/2020/11/logo_top.png
Jan Albanese
2021-06-04 15:43:50
2021-06-09 13:30:04
What is "The Sharing Table"?